Students can view a course description on their courses page or by searching in the course catalogue.
These descriptions are not automatically populated, may rollover year on year from a previous version of the course.
You can add some meaningful text here. This might be useful if you have several courses which have similar names. For example, you could:
clarify which student cohorts should be enrolled on this course
give an impression of what content students can expect to see on this course (or if they should be looking elsewhere)
confirm when and where this instance of the course is delivered. Southampton or Malaysia, semester 1 or semester 2?
Examples of course description
List view
Select "More info" to see the course description.

Tile view
Select the i icon to view course information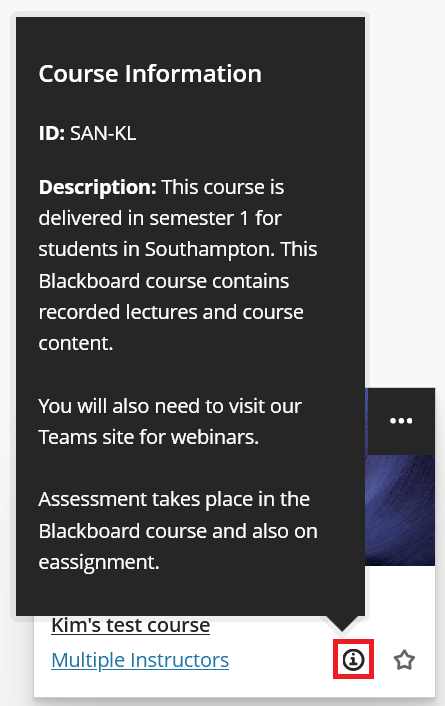 Course catalogue
Search for a course in the course catalogue and the description will appear in the results in the column on the right-hand side.

How to update your course description
You must be an instructor on the course.
Enter the Blackboard course
On the left menu under Course Management/Control Panel, select Customisation
Select Properties
below the heading Description, update the text as desired
Select Submit
Text in square brackets
Feel free to remove references such as:
[AcademicYear=20-21]
[Force onto HomePage]
[Programme Information]
This list is not exhaustive. Removing the above text in the square brackets will not change any data associated with your course.