Known issue: Humanities language "Course Activities" are not available to students after course rollover.
The course folder that contains the Course Activities does not roll over with the correct permissions so students lose access to some of the files in these activities. Follow the steps below to fix the course file permissions.
Locate the imported Course Activities folder in the course files
Select one of your course activities and look at the URL for the activity – this will tell you which course folder the course activities are saved in. In the example below it is in the folder "CHIN9024-29553-19-20_ImportedContent_20200506103402"

From the Course Management menu choose Files.
Select the folder for your course (not All Courses Content)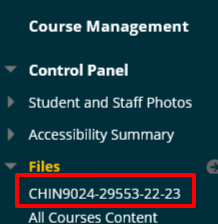 Locate the Course Activities folder – this is usually in an imported content folder.

Add student permissions to the imported Course Activities folder
Select the Permissions icon to the right of the Course Activities folder.

Select Specific Users By Place and choose Course.

From the Select Roles list tick Student.
From the Set Permissions list tick Read.
Students will now have READ permissions on all the files in this folder.