Staff guide: help with – logging in, NHS account issues, web browsers and Guest access.
Supported web browsers
We recommend you use either Chrome or Firefox browser to access Blackboard.
Follow this link to run the Blackboard Browser Checker. This will tell you if your Browser is supported for use with Blackboard (you will see a green tick if your Browser is supported).
See the Blackboard help guide on Browser support for more information.
Log into Blackboard with a University staff or visitor account
If you are prompted to log in, use your University username ( include the @soton.ac.uk) and password.
Help with Multi-Factor Authentication (MFA)
Multi-Factor Authentication (MFA) is a new and more secure way to log in to your University accounts. This prevents fraudsters from accessing, altering, or destroying your personal and sensitive information.
It provides an extra level of protection. When signing in, it asks you to confirm your identity with a password and a phone / tablet. Only successfully presenting two pieces of evidence you can have access to your account.
How to reset your University IT account password
If you are new to the University
You will not be able to log into Blackboard for up to 48 hours after subscribing to your IT account as it will take time for all of your IT access to be set up.
You will need to set up Multi-Factor Authentication in order to access university IT services.
Log into Blackboard for NHS staff
If you are prompted to log in then use your University NHS Account: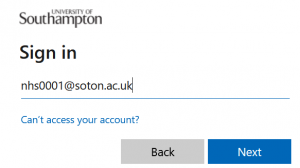 Your Blackboard username is your University nhs account username followed by @soton.ac.uk.
E.g. nhs0001 @soton.ac.uk.
How to reset your NHS external user password
Follow this link to Medicine External User Service/forgotten password.
You will need to use the email address you used when registering for this account and NOT your University account.
How to set up a University IT account for NHS staff
Follow this link to register with the Medicine External User Service using your NHS email.
You will be sent a NHS @soton.ac.uk username and password which you can use to log into Blackboard and other University IT services.
Error : Your account is not recognised
This is a common issue for NHS users and visitors or anyone who is accessing Blackboard when already logged into a non-University Microsoft account.
See the suggestions below for how to access Blackboard if you have more than one Microsoft or University account.
Accessing Blackboard if you use other Microsoft accounts or have more than one University account.
If you have a non-university Microsoft account or more than one university IT account, you will need to keep your logins separate or Blackboard may try to automatically sign you in with the wrong account. There are a number of ways to manage this:
Use different web browsers for your accounts
For example, if you use Chrome browser with a non-university Microsoft account, or with a University student account, you can use Firefox for your University or staff account.
Access Blackboard using a private or incognito browser window
Using a private window will force the Single Sign-On page to ask for your username and password, even if you've signed in before with another account.
Right click on the "Link Blackboard" button above and select one of the following:
If you use a Chrome incognito window, set the switch to allow Third Party Cookies, this is necessary to allow certain integrations to perform effectively. To do this, you will need to open a new incognito window (via the 3 dots in the right-hand corner) and allow third-party cookies.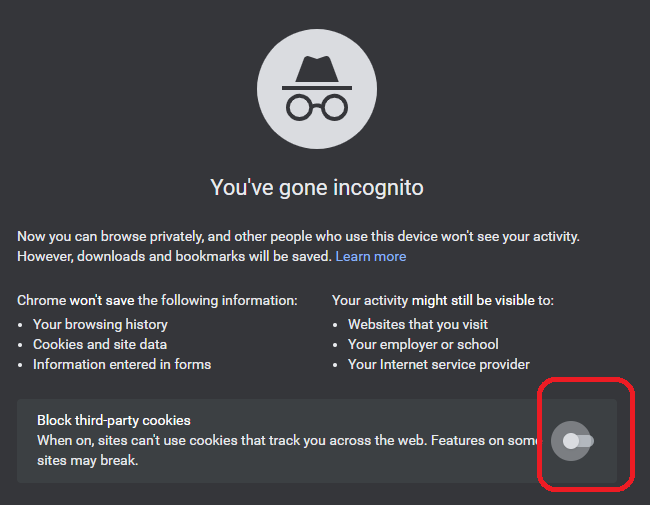 Use Firefox multi-account containers
If you regularly access IT services using different accounts, you can download the Firefox Multi-Account Containers extension. The link to the download and instructions are in this Firefox Brower guide.
Blackboard for guests and visitors.
If you have a University of Southampton account, NHS account or visitor account, you should not use Guest Access.
A guest is a special account that can see courses that are publicly facing.
Guests cannot participate in courses and may not be able to see all course areas.
You can request a visitor or conference IT account if you need to arrange access for a non-university user. See the iSolutions guide for information on IT access for university visitors.