See Blackboard help pages on Discussion Boards to understand how they can be used and accessed, and how a Discussion Board is structured.
Create a Discussion Board Forum
See the Blackboard help pages on creating a Discussion Board Forum.
Create Threads
See the Blackboard help pages on creating Discussion Board Threads.
Adding a menu link to the Discussion Board page
1. First we recommend that if your course menu does not already have a link to the discussion board you should add one as a Tool Link so that your students can find it.
2. To add a Discussion Board menu item, click on the + symbol in your course menu while in Edit mode.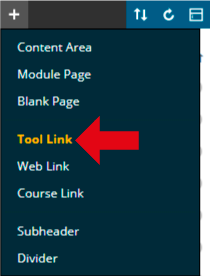 3. Choose Tool Link.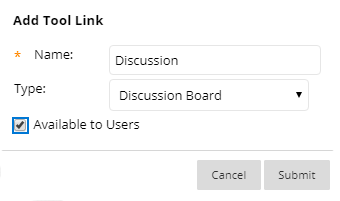 4. Enter a Name e.g. Discussion.
5. Select Discussion Board from the Type drop down menu.
6. Tick Available to Users, otherwise students will not see this menu item.
7. Click on Submit.
Marking Discussion Boards
Please see Blackboard Help for graded Discussions.
Discussion Boards in Groups
When you create Groups in Blackboard, you can enable the Groups Discussion Boards setting. This creates a Discussion Board for each group, which only group members can see and reply to. Group Discussion Boards can be accessed by Group members via the Group Homepage.