Staff guide: You can request a Blackboard Programme Course to hold programme-level information and communication.
About Programme Courses:
What is a Programme Course for?
A Blackboard Programme Course can support Programme Leaders to open a communication channel, develop an online community with students, and share programme-level content.
These courses are included as part of the CHEP Academic Transitions Support Toolkit.
See the CHEP Resouces Hub to view case studies and further guidance on how a Programme Course can be used.
A Programme course helps to give your programme an identity and sense of community.
Course Announcements & emails can be used for communication with the programme cohort.
With our Blackboard/Teams integration tool you can create a Team directly from your Blackboard course and the Team enrolments will stay in sync.
The course can be a place to gather the information that is otherwise repeated in module courses, on Faculty Hubs (programme specific), delivered via other arbitrary courses, or sent via email attachments.
Some suggested content areas could include:

Induction
Careers/employability
Staff Information
Links to related societies and student reps
Assessment information
Sources of help and support
Study skills
Events
Key dates

A Programme course should not be used to deliver teaching or assessment. Please contact ServiceLine if you feel you need to set up a non-Banner course for teaching purposes.
How are students enrolled on a Programme Course?
Students are auto-enrolled onto Programme Courses via their Banner programme codes.
When you create a Programme Course you specify the course title and choose programme enrolment codes to associate with the course. Course set-up will suit your programme delivery and your definition of a "Programme". In some areas, one course can be set up for all students in a department or school, or you could have separate courses for particular groups of programmes, year groups etc.
How do enrolments roll over from year to year?
The course name and ID will not contain a year – the course content will not need to roll over each year.
New students will be enrolled on the course via the programme enrolment feed from Banner & old enrolments will be dropped.
If you have courses for separate years, students will move on a year on the 1st of August as Banner rolls records over to the next academic year.
See this guide on how to prepare a Programme Course for the next academic year.
How will a Programme Course appear on the Blackboard Courses page?
The course will appear a the top of the Courses page, under the term heading "Programme Information".
Course ID will start with PROG-.
You can define the course name to suit the programme.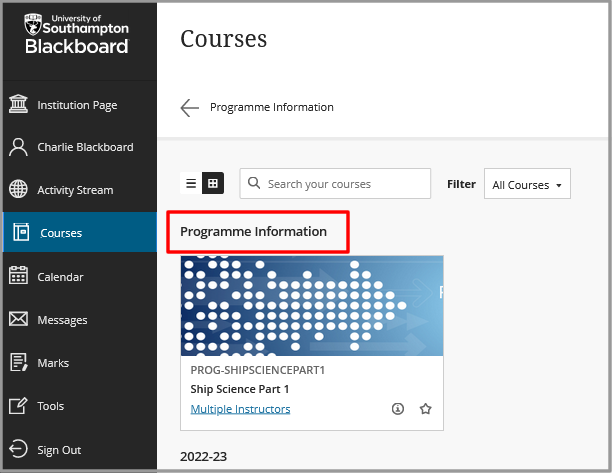 We already have an arbitrary course for programme information – can we set up an auto-enrolment & courses page listing?
Many areas already have an arbitrary Blackboard course set up to deliver Programme information.
Request a Programme Course using the app in the next section. You will then be able to roll the content of your existing arbitrary course into the new Programme Course. Open a ServiceLine ticket if you would like to speak to Blackboard/Education Application Support about this first.
How to request a new Programme Course
Select Create a Programme course.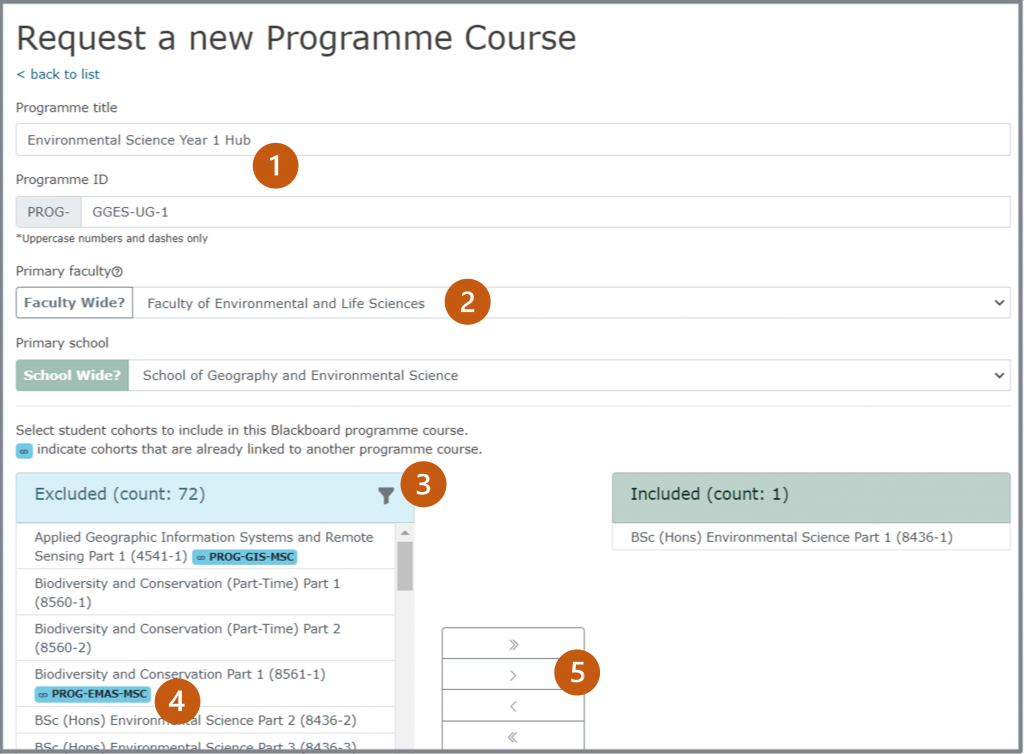 Type a Blackboard Programme Course title and ID.
Select your faculty and school (and department) to display a list of programme codes associated with your school/department.
Use the filter to sort codes by level and year group (part).
Codes already included in a Programme Course will be shown by a blue link icon. (A code can be included in more than one Programme Course)
Select the programme codes you would like to be included in the Blackboard course enrolments. Use the > arrow to move the selected codes to the Included column.
Select Submit – this will send a ServiceLine ticket to iSoluitons/Education Application Support. We will be in touch with you via the ticket to let you know when your course has been created. If you have any questions or comments – add them to the ticket.
How to edit enrolments and prepare your Programme Course for the next academic year.