Staff guide: an overview of merged courses and how to manage and request them.
What are merged enrolments?
A course is set up in Blackboard for every Module CRN (course reference number) that is registered in the Banner student information system. This does not always suit course delivery and if you are teaching closely related modules, you can merge Blackboard courses into a single "parent" Blackboard course.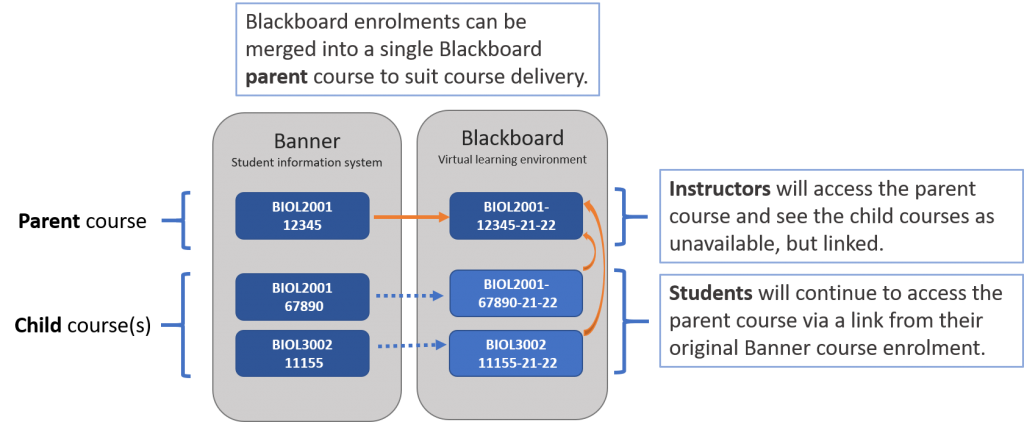 Merging only affects Blackboard enrolments – Banner and Banner Grade Book enrolments are not altered.
You should only request the merging of modules where student enrolments do not overlap.
Staff and students enrolled on a child course will be automatically enrolled on the parent course.
If you are an instructor, you will only see the parent course. The child course(s) will no longer appear in your Blackboard Courses list.
Students enrolled on a child course will continue to access the course via the child course link – they will be unaware of the merge. They will see the child course title displayed in their list of courses and on the course page but will be taken to the content of the Parent course.
Students' view of Blackboard merged modules will match their timetable and Banner enrolment.
In the Blackboard Users list and Grade Centre, instructors can see which module code students are using to access the parent course.
How to request enrolments are merged into a single course in Blackboard
Blackboard Course Manager for module leads
Module leads can view and manage merged enrolments via the Courses Manager app.
Follow the link to Course Manager to display all courses that you are enrolled on as an Instructor.
You can view courses currently merged – Parent and Child courses.
Use the Merge Child Courses link to merge child courses into a course where you want to deliver teaching – the Parent course.
Use the link Remove Merge to remove a Child course from the Parent.
If courses are unavailable to students the merge/unmerge will occur immediately, otherwise, a ServiceLine ticket will be generated.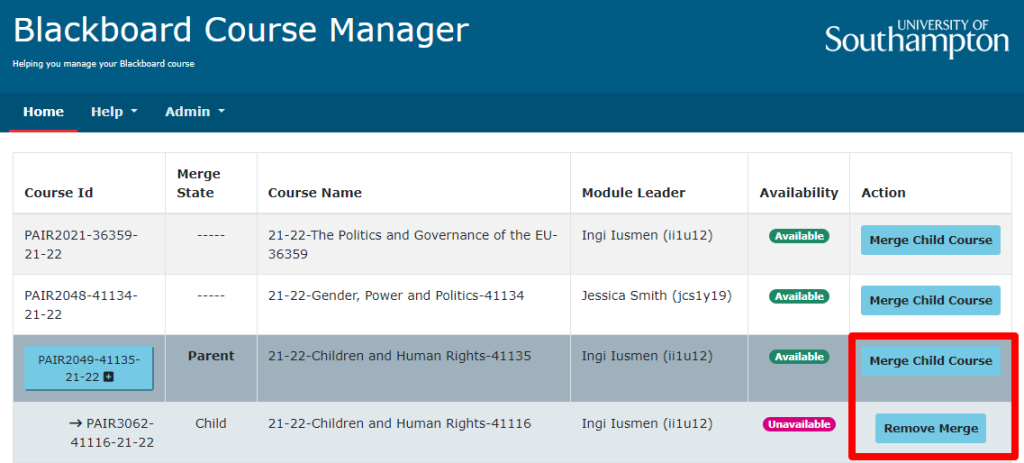 Request merged enrolments for non-Module Leads
Raise a ServiceLine ticket with the description "Blackboard merge modules" and let us know:
Parent module code :
Child module codes(s) :
Instructor view of merged courses
If you open a Child course you will see a message at the top of the course directing you to the Parent course:

You cannot edit the content of a Child course.
You cannot make a Child course visible or hidden from students – course availability is controlled in the Parent course.
How to tell if a course is a Parent course in Blackboard
Go to Users and Groups and then select Users.
If you see a column stating "Child Course ID" then this is a merged course.
Staff and students who are originally enrolled on the merged child course will have this course ID listed in the column "Child Course ID".

Module Leads can view and manage Merged enrolments via our Course Manager tool.
Student view of merged course
Students continue to see the course they are enrolled on in Banner.
If they are enrolled on a Child course, this links them to the Parent course content.
Examples of use cases for merged enrolment
The same module has several CRNs for administrative purposes. Perhaps they are delivered on different days or at different locations.
Modules with different levels, or with a different credit-bearing, have similar core content.
Students are enrolled in different modules but are studying the same content.
I would like Blackboard module enrolments merged into a single course with a new Blackboard course name.
When courses are merged, students will only see the course code and name of the module they are enrolled on in Banner, they are unaware that they are actually landing in the Parent course. If you want your students to see a different course name, this can be done by using this form to request an Arbitrary course. Users will need to be added manually but contact ServiceLine if you would like to use this course set up and we can talk through the best solution for your preferred course delivery
Managing students in a merged course.
Viewing the Blackboard Grade Centre by module enrolment
You can add a column to the Blackboard Grade Centre to show the Child course ID of users. You will then be able to sort and filter the Grade Centre by student cohort.
Go to Course Management/ Grade Centre/ Full Grade Centre.
Select Manage/Column Organisation.

Tick Child course ID .
Select Show/Hide and then Show Selected Columns.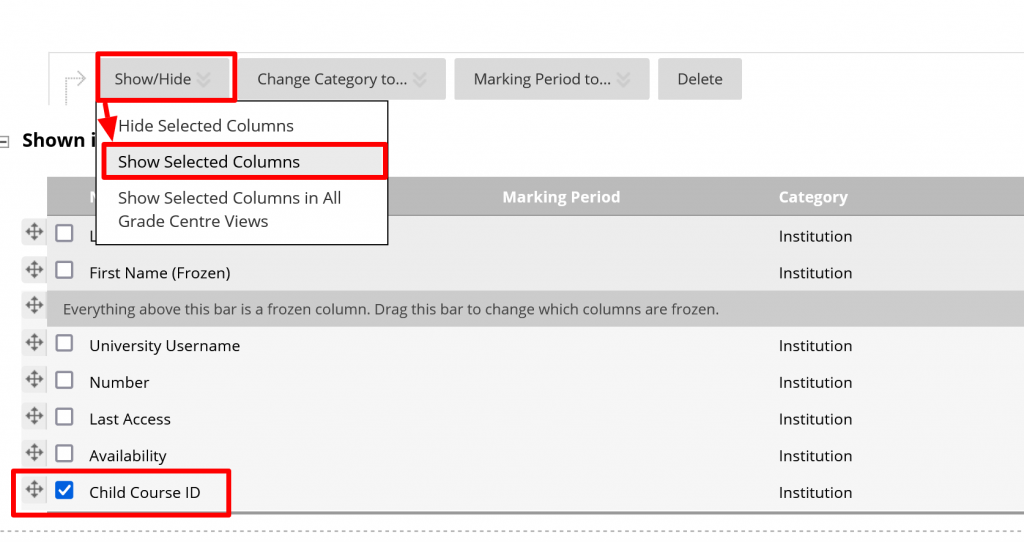 Using the Blackboard student Group feature to differentiate cohorts in a merged course
You can manually set up and add students to Groups based on their original module code (CRN). You can then add content for the different groups by using Adaptive Release – such as different assignments, different due dates, discussion boards, content availability and email communication etc. You can also filter the Grade Centre by Group as well as setting up Grade Centre "smart views" for each group and view Turnitin submissions by Group.
Guide to using Groups in Blackboard.
Guide to managing Content availability with Adaptive Release.