Video: Navigating Blackboard
Video: Blackboard Courses
For more video guides please see Blackboard's Video playlist: Get started in the Original Course View.
Blackboard Institution Page
You will be taken directly to the Blackboard Institution Page where you can view key university announcements and access helpful information and resources, such as your timetable.
Blackboard courses
Quickly navigate to your courses with the ability to search, filter, and favourite them.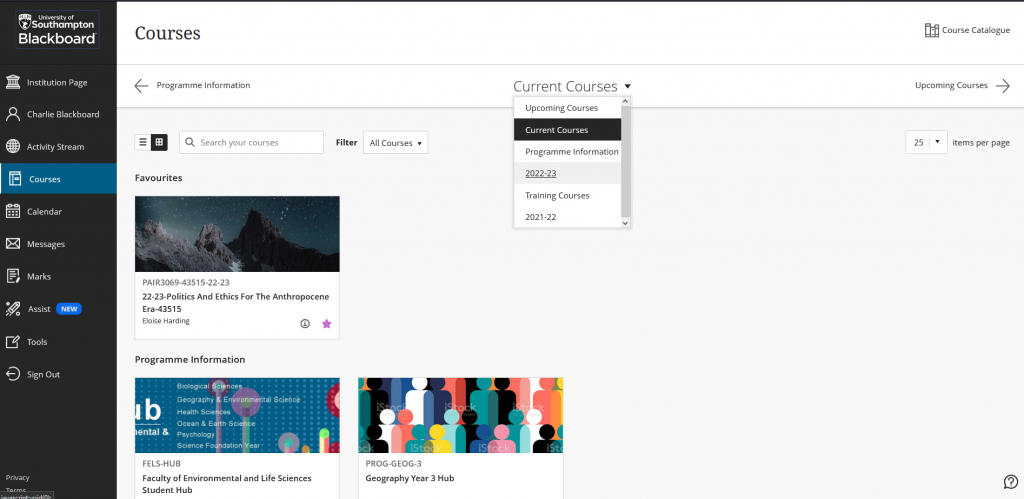 This page will list the Blackboard courses that you are enrolled on.
All courses that you are enrolled on appear in the list of Current Courses. Use the drop-down meant at the top of the page to switch between groups of courses.
Organise your courses by List or Tile view.
Favourite courses (select the star icon) you visit regularly so they appear at the top of the Courses list.
If a course is marked as Private – it has not been made available yet; contact the course instructor or your school office to enquire about access to the course.
Course names
Most Blackboard courses adhere to the following naming convention: [Course ID-CRN-Year]: [Year-Course name-CRN]
For SEMS3031-32849-14-15: 14-15-Automobile Systems-32849
Course ID is SEMS3031-32849-14-15
Course name is 14-15-Automobile Systems-32849
CRN (Course Reference Number) is 32849
Year is 14-15
Unavailable courses
Courses which are (not currently unavailable) or (Private) cannot be accessed by students. By default, courses are unavailable when they are created and must be made available by an instructor at the start of the course.
Please speak to the course instructor if you think a Blackboard course should be made available.
Can't see a course?
Firstly, check that you are looking for the correct course.
Check under other terms or headings.
You must be enrolled on a course for it to appear in your list of Blackboard courses.
This can sometimes take overnight to update so if you have recently enrolled, please check back tomorrow.
If you cannot find a course in your list of Blackboard courses, please speak to your Student Office to ensure that your Student Record is correct.
Activity Stream
This feature streamlines updates from all your courses into one place. This will include announcements from all courses, upcoming deadlines, updates to discussions and marks. Details will still be available within each individual course as well. You can customise your notifications so you only see what is important to you.
We recommend that you make use of the option to personalise the notifications you receive and adjust email and app push notifications.. To do this, click on the cog/settings icon in the top right-hand corner of this screen.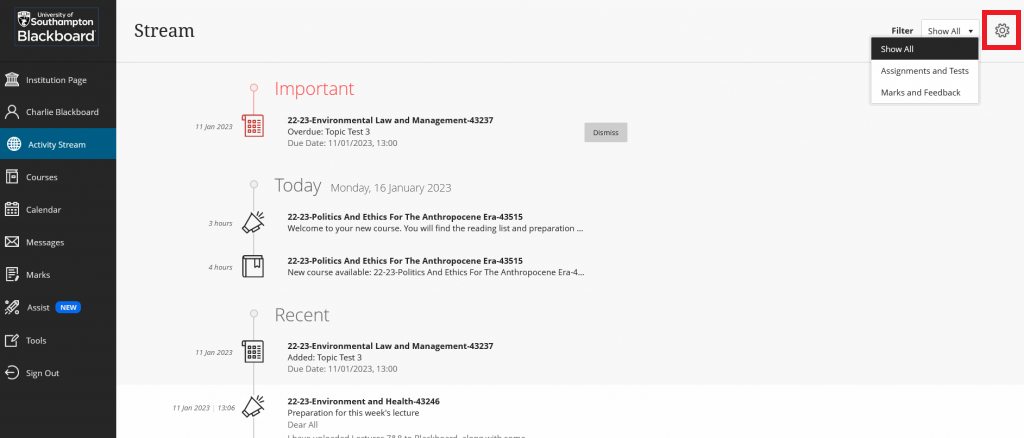 For more information see the Blackboard help page: Activity Stream.
Manage courses list, notifications & settings
Web browsers & tips for best experience
We recommend you use either Chrome or Firefox browser to access Blackboard.
Faculty Hubs
Hosted on Blackboard, Undergraduate and Post Graduate Taught students may now access The Hub, a new online resource and one-stop-shop to help make the most of your time studying with us.
The sites signpost lots of helpful information including: student support, academic help, careers information, 'how to' guides (such as 'How do I find out more about a module'), and much more.
The sites, championed by student representatives and last academic year's Sabbatical Officers, have been developed alongside feedback from the Students' Union, as well as a number of other departments across the University.